Director: Wang Xin
Playwright: Wang Xin
Institution: The Central Academy of Drama, China
Venue: Theatre Centre, Changping Campus, the Central Academy of Drama, China
Time: 19:30-20:30, May 17, 2019
Event: ATEC 11th International Forum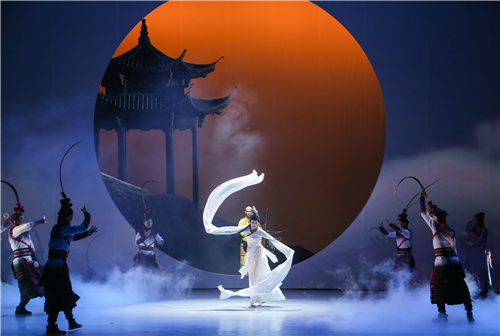 Director's Notes
The legend of the White Snake is very popular in China as it is a treasure left from our ancestors, containing the Chinese's unique mindsets and conceptions, spirit of humanity, moral regulations, social recognition and anaesthetics. As a classic cultural folk in China, it was included in the first batch of National Intangible Cultural Heritage List in 2006 ratified by the State Council.
Leaving us boundless rooms to think and create, the story is very unique in the matter of subject, as it's developed along the time in various artistic forms presented and passed on by people for hundreds of years.
Today, our students from The Central Drama Academy in Beijing will give a show of this legend at the ATEC 11th International Forum. We will make efforts of different departments to complete the creation with the concept of "Grand Drama". Performers from different departments are all young students with great vigour and creativity, endeavouring to offer you a performance with respect to the tradition and courage of creativity. Striving to a new youthful version of the legend of the White Snake, we will be able to pass on the old legend generation by generation.
We are confident that brilliant cultures can be inherited and communicated in a better way through the forum as all Asian countries can draw on each other's strength and learn from each other at this forum.
Synopsis
The legend of the White Snake is one of the most popular romantic folklore in China.
Having gone through a thousand years of self-discipline, Bai Suzhen and Xiaoqing turned into young girls from two snakes. Longing for the mortal world, they headed for the West Lake in Hangzhou (southern part of China) where Bai encountered Xu Xian. They have had a crush at the first sight and get married. But their happy life was interrupted by Fahai, the abbot of Jinshan Temple who has seen through Bai's incarnation, and informed Xu Xian the secret about Bai's background. Though doubtful and half-convinced, Xu Xian still tested BAI with some realgar wine on the Dragon Boat Festival as Fa Hai suggested. Since then, the two have fallen into a series of live-or-death struggles and sufferings.
Running Time: 1 hours