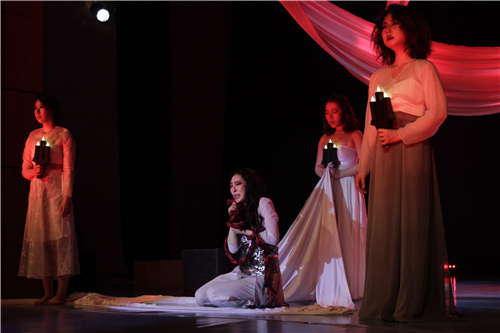 Director: Gang Min-Bum
Playwright: Euripides
Institution: College of Arts, Seokyeong University
Venue: Oyutan theatre of MSUAC, Mongolia
Time: 16:30, May 21, 2016
Event: 4th Asian Theatre Schools Festival
Director's Notes
Hello, I am Gang Min-Bum, a fourth-year student of Seokyeong University majoring Acting in the Division of Performing Arts. We, Seokyeong University, are pleased to perform 'Medea' which is arranged from 'Medeisia' created by Euripides who is classical Greek tragedian. 'Medea' is a character from 'Heros of Jason and Argo' which impacted greatly on Jason's life. On the stage, Medea is the main character but Jason is a main character in classical Greek myth. In original Greek myth, Medea is described as a heinous cruel witch, but we described her as a pathetic woman who is abandoned by Jason even though she gives up everything to achieve Jason's love.
In our work, Medea and her other ego have different character and it is related to god who Medea worships. Medea 1 shows virginity. Medea 2 shows passion and love. Medea 3 shows death and anger. These are the characters created by Medea herself and these lead the play and Medea herself.
In this play distinguishing from the original one, there is a scene where Medea in sorrow and madness kills her two sons. In that scene, we show the sound and the movement of Korean traditional instrument to add a savour on this play.
Medea is Greek tragedy but we try to unfold the story not too Greek but not too Korean, either. We include some scenes that people might feel uncomfortable to look at. But we want to give a message. At last, I would like to thank all staffs who helped for the play and professors at Mongolian State University of Arts and Culture.
Synopsis
The story begins with what seems to be a description of the aftermath of Medea's departure from Corinth. The introduction is suggestive of a dilapidated, sexed-up town filled with alcohol and keen on sin. Then it jumps back to Medea and Jason's search and acquisition of the Golden Fleece and Jason's debt to Medea: the life of her brother, then follow's Medea's feelings of abandonment and rage, her revenge on Jason, and finally the element of deus ex machina. It explores more deeply the consequences and implications of Medea's actions, bringing these aspects to new extremes. Euripides's original work is limited by the constraints of our own epoch and also by the typical arcing plot structure of the time.