Director: Matt Grey
Institution: Nanyang Academy of Fine Arts, Singapore
Venue: Experimental Theatre
Time: 19:30-20:30, May 21, 2014
Event: The 1st World Theatre Education Convention with 3rd Asian Theatre Schools Festival
Director's Notes
I was encouraged. If the tale could touch the cast profoundly, then it must be worthy of effort.
Why a Malay family? Why not? Certainly not to make it 'relevant to a Singaporean audience'. Surely, we've left that nonsense behind now. The story is not located anywhere in particular, except perhaps by its broadly Eastern European aesthetic. It happens to sit perfectly well in an HBD flat, so it made less sense to transfer it back to Prague than to use familiar signposts here.
The cast represents three year groups from the 2nd year diploma to final year B.A. (Hons.). They are representative of the work that we are producing at NAFA Theatre, where we focus upon the development of core skills and stagecraft. We want our graduates to be recognised for their flexibility, responsiveness, thoughtfulness, reliability and excellence.
The team has been a joy to work with. I hope you enjoy the show as much.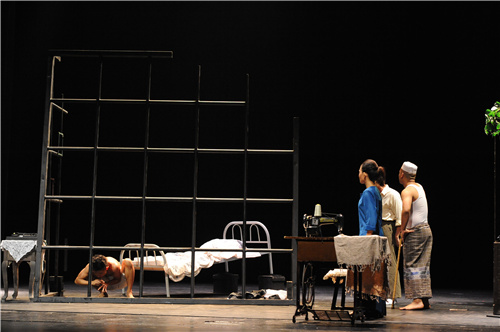 Synopsis
For theatre makers, the greater the risk of failure (ridicule), the higher the chances of higher reward (admiration). Metamorphosis is a risk. An actor 'being' an insect could be either ludicrous or astonishing. There's no space for mediocrity here. On the surface, it looked silly and I couldn't understand why anyone would care about it. But it inhabits a dark place, where Kafka descended to, uncharted and foreboding; a place of nervous self-obsession. Berkoff's dramatisation does Kafka proud. The actors saw abrupt significance in Gregor; his isolation within a tightly knit family and his longing for purpose. Where else could he turn but inwards?
Running Time: 60 minutes